PHEV

The P400e brings the benefits of electrification to the legendary capabilities of the Range Rover, delivering ultra-low emissions with an EV range of 19 miles.
– ELIZABETH HILL | CHIEF PRODUCT ENGINEER
POWER
PHEV delivers an output of 398 HP, using the combination of an advanced 2.0-liter 296 HP Si4 Ingenium gas engine and a high capacity 141 HP electric motor.
REFINED, SILENT DRIVE
PHEV delivers a virtually silent drive in full electric vehicle (EV) mode and, for optimal refinement, ensures a seamless transition between the gas engine and electric motor.
DRIVING MODES
Choose from Parallel Hybrid mode (the default driving mode) which combines gas and electric drive or the full electric drive of EV (Electric Vehicle) mode.
PEERLESS CAPABILITY
When it comes to capability and performance, PHEV is precise and uncompromising and is fully capable of handling off-road situations such as wading and rock crawl.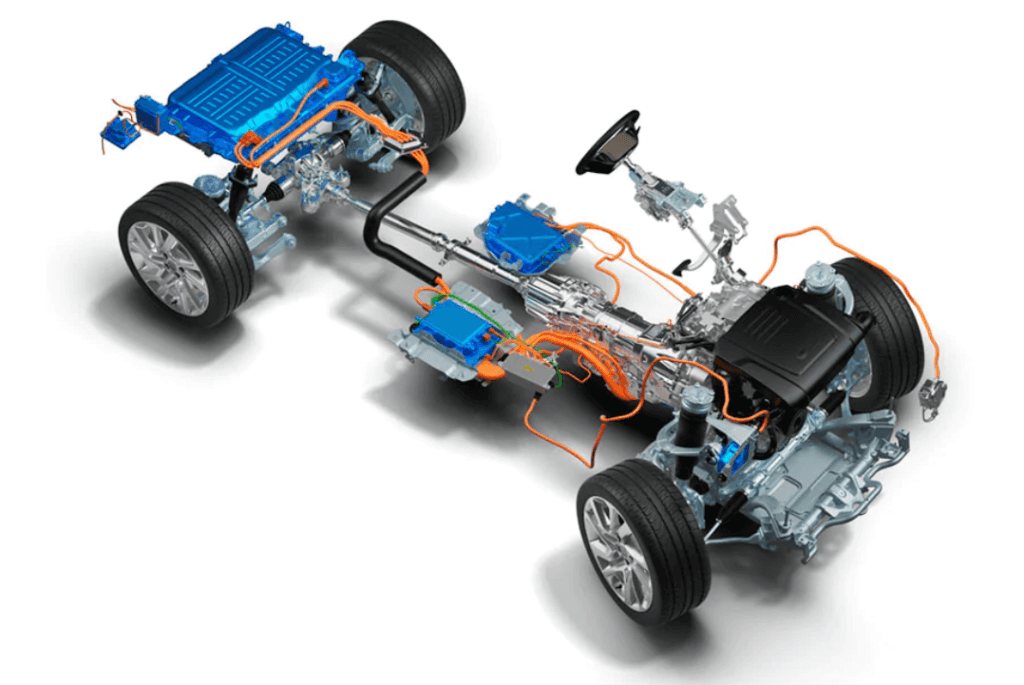 HOW PHEV WORKS
PHEV combines our lightweight Ingenium engine and 141 HP electric motor, together with a large 13 kWh capacity battery which is charged via an external source. In EV mode this delivers 19 miles from a full charge with zero CO2 tailpipe emissions.
ABOUT ELECTRIC VEHICLES
MILD HYBRID ELECTRIC VEHICLE (MHEV)
MHEV is a mild hybrid system that harvests and stores energy normally lost during vehicle deceleration and intelligently redeploys it to assist the engine. It incorporates an enhanced stop start system that enables the engine to shutdown while the vehicle decelerates to a stop. These features improve vehicle fuel economy.
HYBRID ELECTRIC VEHICLE (HEV)
Powered by a conventional engine with an electric motor and battery pack to improve efficiency, a Hybrid Electric Vehicle (HEV) charges its battery via regenerative braking.
PLUG-IN HYBRID ELECTRIC VEHICLE (PHEV)
Combines a conventional engine with an electric motor and a battery. A Plug-In Hybrid Electric Vehicle (PHEV) is charged from an external power supply and, using regenerative braking, seamlessly selects and blends the engine and electric motor to deliver optimum performance and efficiency.
BATTERY ELECTRIC VEHICLE (BEV)
With no conventional engine, a Battery Electric Vehicle (BEV) is powered solely by an electric motor with a battery and recharged using a plug-in charge point, delivering permanent pure electric vehicle driving. Charged from an external power supply and using regenerative braking, a BEV achieves zero tailpipe emissions.

EV CHARGING
ABOUT PHEV CHARGING
The home charging cable enables you to charge the vehicle overnight using a domestic power socket. Where more flexible or faster EV charging solutions are required, optional charging solutions including an A/C wallbox can be specified.
EV MODELS
RANGE ROVER PHEV
Distinctive, refined and luxurious; this is a vehicle that delivers all the classic Range Rover qualities, while redefining the Ultimate Range Rover with the efficiencies and performance credentials of PHEV.
RANGE ROVER SPORT PHEV
Performance, capability and efficiencies are taken to new heights with Range Rover Sport PHEV. Dynamic design and an agile, confident drive are complemented by a boost in performance and lower emissions from our most innovative engine to date.